Contact
Phone:
(979) 241-1946
Email:
ozzie@ozziesguideservice.com
Address:
2297 County Road 166,
Bay City, Texas 77414
Rates
For Rate Information Please call Captain Ozzie at (979) 241-1946. You can also fill out our Contact Form.
About Captain Ozzie Arnold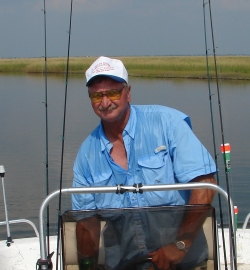 Captain Ozzie Arnold
U.S.C.G. # 117448
TPWD Licensed
CCA Member
Over 40 years fishing experience
Ozzie has lived in Bay City all his life, and he started fishing when he was 7. At that time, you admired a man that had a boat with a 70 horsepower motor. As he grew up, Ozzie spent as many weekends fishing in Matagorda as possible. Ozzie bought his first boat in 1977 and has been fishing East and West Matagorda Bay ever since. He shrimped commercially in the late 70's and early 80's, and has oystered East and West Matagorda Bay for 30 years.
"The Pelican"
Ozzie's friends gave him the nickname "Pelican" because he always catches fish when no one else can. Ozzie knows where the fish will be feeding, what bait works best, and when the fish will be biting. Ozzie has lived up to the name Pelican.
Ozzies Passion
Ozzie enjoys teaching anyone who wants to learn how to fish. He has extensive knowledge of the bay system and 44 years of fishing experience. Articles about Ozzie have been published in Texas Parks and Wildlife and Heartland Magazine. Ozzie has shared his fishing experience with people from all over the United States, and looks forward fishing with you.